Frequently Asked Questions
What is mind mapping?
Mind mapping is a graphical way to represent ideas and concepts. It is a visual brainstorming tool that helps you to better comprehend, analyze, recall and generate new ideas. Just as in every great idea, the power of mind mapping lies in its simplicity.
What is Bubbl.us?
Why haven't I received my Password Reset e-mail?
If you have tried to reset your password using this link, and have not received the e-mail with your temporary password, the following are a few recommendations:
Check your spam folder. Password reset emails are automated and are sometimes considered spam.
Add support@bubbl.us to your e-mail contacts.
Password reset emails are sent from an email address ending in @bubbl.us. Please make sure @bubbl.us is allowed to pass through/whitelisted in your email settings, browser and any firewall software, browser privacy add-on, etc. that you may be running on your computer.
An academic email server may be blocking the email from being delivered to your inbox. This is a common issue with protected school networks. If you are connecting from behind a school firewall, you may have to ask the responsible IT person to make the adjustments listed above, and to whitelist the following IP addresses: 184.173.153.62 and 104.130.122.15.
Are my mind maps private?
By default, all of your mind maps are private unless you choose to share them.
How do I add my mind map to a Word document?
To add your mind map to a Word document:
Save your mind map as an image. See save as an image help page.
Open MS Word, click on "Insert Image", and navigate to the folder where you saved the image of your Bubbl.us mind map.
How do I share a link to a mind map?
Open a mind map and clicktap on Share button on the toolbar.

The following dialog will appear. ClickTap Get Link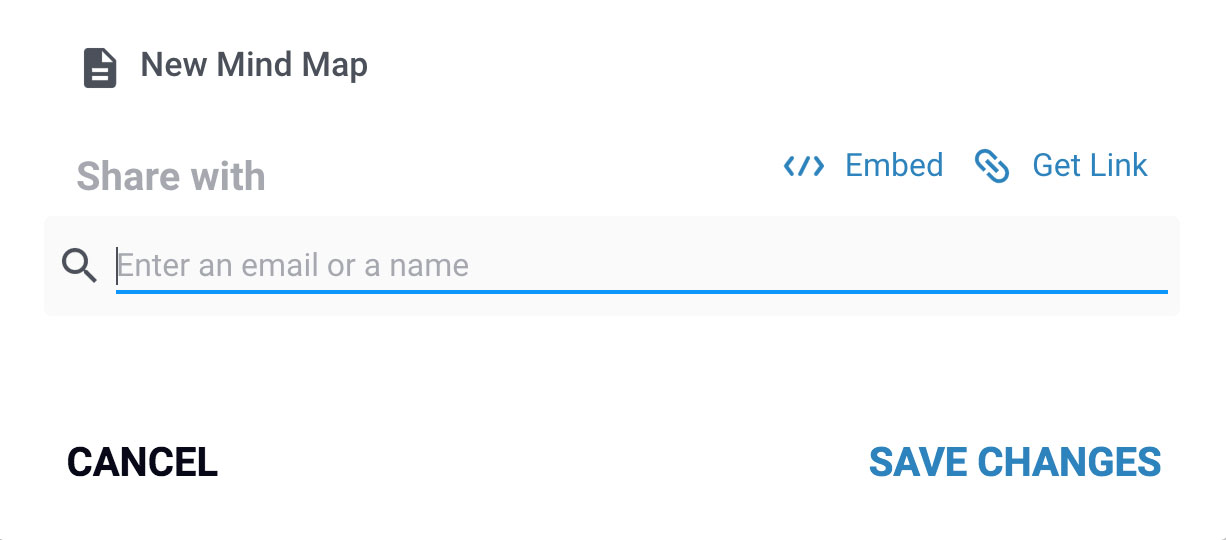 You will see a dialog box that will let you copy a link to your clipboard. You can paste the link into an email, chat or share it on social media.
How do I copy and paste bubbles?
You can copy and paste a section of your mind map. To do so, you'll need to first select part of your mind map that you want to copy. Once selected, clicktap on Copy button or use a shortcut ⌘Ctrl + C . Then, you can paste copied bubbles into the same or different mind map, by clickingtapping on Paste button or using a shortcut ⌘Ctrl + V .
How do I make a copy of a mind map?
To make a copy of a mind map, navigate to Mind Maps tab. Click Tap on the menu icon to the right of a mind map you wish to duplicate, and select Make Copy from the drop down menu.
Can I mind map without registering?
You can mind map without registering for bubbl.us. On the homepage click tap the Start Mind Mapping button. You'll be redirected to our mind map editor.
While this is a fast and convenient way to use Bubbl.us, we recommend registering to save your work. Registering will give you the ability to save your mind maps, view your work from any computer, make future edits, and share your mind map with others.
If you are not signed-in while editing your mind map, your work is not saved on our end. Your work is temporarily saved in your browser. This means that if your browser crashes or if you clear your browser history, your work may be lost.
How do I apply for educational / nonprofit discount?
To apply for the discount:
Sign into your account.

Click

Tap

the menu button in the upper-left corner of the screen and select from the menu.
On the upgrade page,

click

tap

Click here to apply

link.
Fill out the form.

Click

Tap

button.
Alternatively, you can contact us via form, or email us at support@bubbl.us with:
University or school name you're a part of, or nonprofit organization name you work at.
Your position at this school or organization.
We'll review your submission and mark your account as educational.